Charity sale Artcurial
for the benefit of the association 13onze15
05 december2016
Auction profits to the victims of the attacks.
Thanks to Alex for the invitation and the organisation with Aymeric.
Artits : Alex, Brok, Mist, Seth, Hopare, Katre, YZ, Nebay, Speedy Graphito.  
Photograph of the auction catalog : Nicolas Gicquel

Catalogue en ligne sur le site d'Artcurial : http://www.artcurial.com/fr/asp/searchresults.asp?pg=1&ps=18&st=D&sale_no=3207+++  
Exhibition Galerie Frederic Moisan
01 to 05 december 2016
Exhibition of original works of sale.


  
Exhibition Saint-Germain market
September to november 2016
Exhibition of reproductions of works at the Saint-Germain market
.


Reportage photo by Nicolas Gicquel
01 to 13 may 2016
Workshop with the other artists of the project.


Vill'Art Rocks (Bourgogne)
21 to 26 may 2016
Thank you to Mayor Pierre and Cecile for your invitation to paint in this former career of Villars-Fontaine in Burgundy.
You were foolish enough to imagine this project in a small village of 140 inhabitants.
It's a great bet. Thank you to the artists for this unforgettable week. Stoul OSRU BUST the DRIP KHOBZ Gael Dod.
Thank you again to the volunteers.


"LA RESERVE MALAKOFF" - FIRST SCULPTURE
1 june to 30 october 2016
Thanks to Hanna&Hadrien (Inzouc Assoc) for this invitation.  (Thanks to Jean Marc too)
Thanks to Anti helping me for my first sculpture. Installation with Rea (and Alex :)


Wall On Fire
Cité de la Mode et du Design 
30 sept to 09 nov 2016
8 artists appropriate the theme of water, on the quay of the City of Fashion and Design. With Les Frères Coulures, Fanakapan, Kalouf, Saîr, Kashink, Dams, Spe.
Thanks to Fire n' Brimstone and Alexandre de Laporte/ID8B for invitation and project!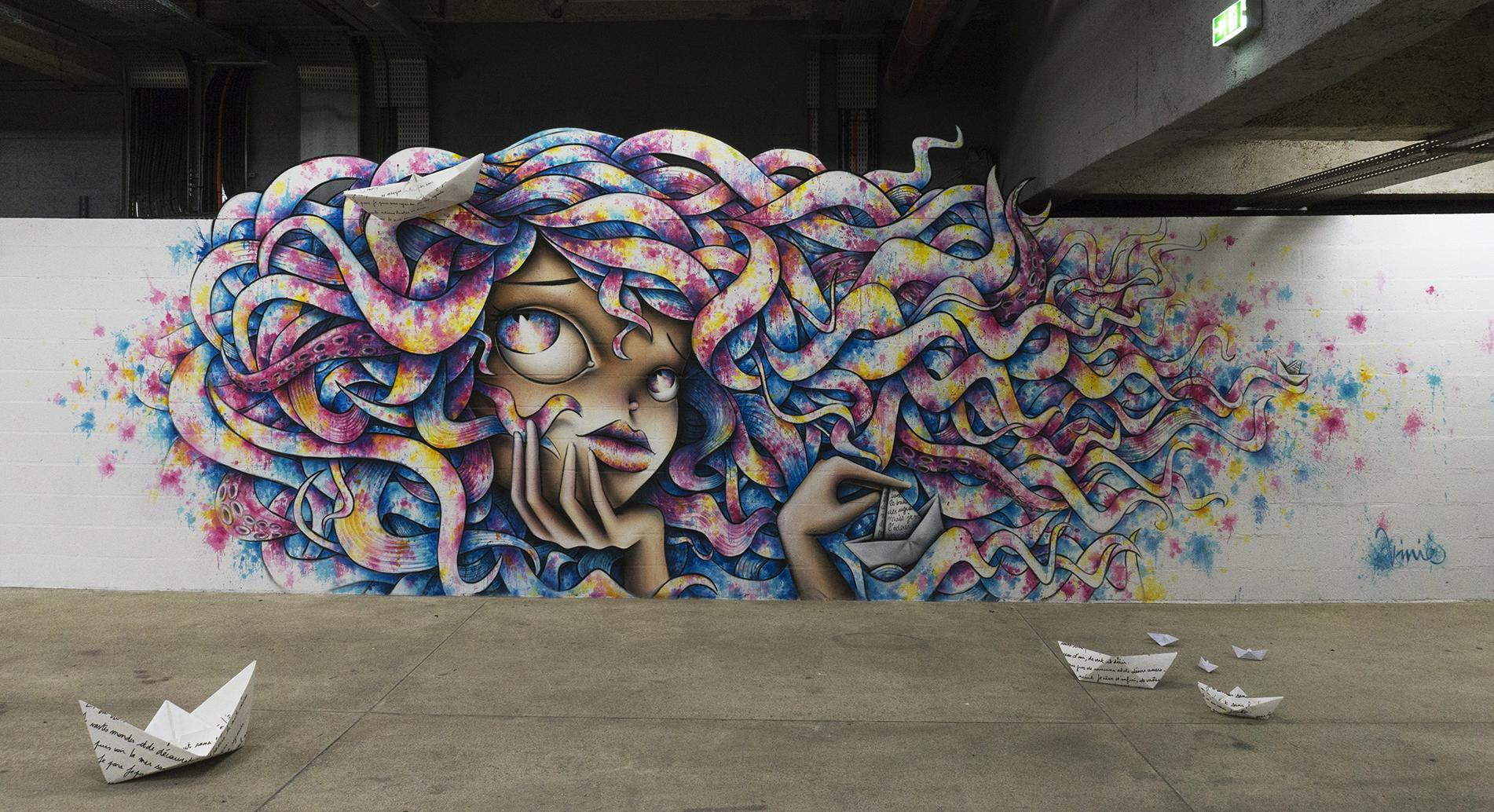 International Contemporary Art Festival  Kutasai (Georgie)
17 to 20 may2016
Thanks to Shalva (French currator Caravan Art Forum) and Nino (Georgian Currator) for this invitation.
I enjoy these days with all others artits. 3 days for a wal of 90m2 :) Thanks to Alex for his help!


INAUGURATION OF "LA CANOPEE"
5 april 2016
Thanks to the new hip-hop cultural center "LA PLACE" for this invitation.
I enjoy these days with you and others artits : Thanks to Shuck2 , Nasty and Bullet!!


ROSA PARKS FAIT LE MUR
1 december 2015
Thanks to "la galerie à ciel ouvert" (open-air gallery) and GFR for this event. Tribute to Rosa Parks.
Opening December 19. riquet bridge, paris 75019 (rue d'Aubervilliers / rue Riquet)
EXPERIENCES ART FAIR
28 november to 6 december 2015 
Installation and exhibition in brownfield 3000 m2 in the center of Paris. Bonsergent, Paris 20
Thanks to the curator Jeremy Chausse. Powered by WeWall.
NURSERY IN PARIS 13
october 2015
Feat Doudou
Wall of a nursery in Paris.
POST GRAFFITI : BOOK AND EXHIBITION
10 october to 27 november 2015
Collective exbition at Nunc Gallery Paris for release of Post Graffiti book(Critères Editions).
Thanks to the 10 other artists : Astro, Marko93, Wire, Nosbé, Mushay, Mush, MG La Bomba
Thanks a lot to the photographers : Alex Perret, Julie Arambu, Clément Charleux, Aina Masahiro, Corinne Sierra, Ilan Benattar, Deborah Poirier.
HOME TWO
3 to 31 october 2015
Thanks to Smak3, Dizat, the Moulin Crew, the Social Centre Manchester and all others for the invitation, reception and beautiful exhibition.
Charleville Mézières
SOLO EXHIBITION AT LAVO//MATIK
august 28 to september 15, 2015
Thanks to Ben and Ana for their hospitality. 
Paris 13
KUSS SCHOOL PARIS
May, 2015
Thanks to Rea and Doudou for the featuring.
Thank you Catherine, director of the school and children's welcome. Paris 13
MEETING OF STYLES FRANCE
July 18 and 19, 2015
Big THANKS to all the team who organized MOS2015. Thank you John, Hope, Flo, tim and other for working hard, your hospitality and your help!
Big up to Same RZM,and his precious help, ...
MEETING OF STYLES ITALY
1-3 june, 2015
Painting for the meeting of styles Italy in Milano.
Thanks to Marte, Poms and all Nuclear One Crew for invitation! Pix by Riccardo
STREET ART MAGNAC
1-3 May, 2015
Painting in Eauze, France.
Thanks to Nicole and all others ;)
 
FESTIGRAFF 6 DAKAR
13 to 20 april , 2015
A big THANKS to all the team who organized this edition of Festigraff Dakar.
Thanks to Docta and all others for hospitality. I come back as soon as posible!!
MUR OBERKAMPF
12-13 April, 2015
Thanks to "Le MUR Asso" for the invitation.
Rue Oberkampf, Paris 20 - Pix by Jo MKRS
KEN SARO WIWA CULTURAL CENTER
March 1 to 5, 2015
Mural painting at the Ken Saro-Wiwa Cultural Center, commissioned by Art AZoi.
Paris 20 Buzenval - Pix Philippe Moreau
WALL WITH REA IN PARIS
November 2014
A big THANKS to Rea for featuring and Ben for invitation.
Wall for the opening of Rea Solo Show at Lavo//Matik!! Pix by Chrixcel :)
"TRAITS D'UNION"
October 3 to 31, 2014
Installation - Group exhibition "Trait d'Union", theme "electricity "Montreuil
Exhibition organized by Popof. thanks to him :)
WALL 2 LONDON
September, 2014
Painting in Commercial Street, near to my collective exhibition at Lollipop gallery.
Thanks to Jaz, Edouard and Maya for this wall :) I loved the show! Pix by Paul Starey
WALL 1 LONDON
September, 2014
Painting in Commercial Street, near to my collective exhibition at Lollipop gallery.
Thanks to Jaz, Edouard and Maya for this wall :)  Pix by Julie Arambu
GROUP SHOW AT LOLLIPOP GALLERY
September 25 to October 10, 2014
Other artists like Jamie C, Herakut, David Walker...
Thanks to Jaz, Edouard and Maya for their hospitality :)